Ausgrabung Haithabu-Flachgräberfeld
In April to October 2017 a larger section of Hedeby's Flat-Grave Burial Ground (Flachgräberfeld; Busdorf, Kreis Schleswig-Flensburg; LA No. 31-3; excavation ALSH 2017-32) was subject to an archaeological investigation. The declared aim of this research-excavation was to relocate the exact position of an earlier, unfinished excavation trench from the eve of World War II, an enhancement of a larger section immediately around it for a modern, state-of-the-art investigation of the burial ground including aDNA-extraction, and finally a monitoring of the present-day preservation conditions for human remains.
The excavations started off with a 12.5 x 12 m large trench roughly centring on the 1939-trench. Observation conditions were hindered due to a very heavy bioturbation caused by resident moles and root voles. Most of the features were about ENE-WSW orientated graves with nailed coffins and without grave goods. The overwhelming majority, however, did not feature preserved human bones. It was attempted to compensate this circumstance methodologically by a consequent soil sampling at the bottom of the grave-pits in hope to catch some putrid juice suitable for aDNA-analysis. Also from three of the main profiles soil samples were taken for further soil-chemical analysis in order to follow up the question for the prevailing erratic preservation conditions. A minor supplementary trench of 3 x 5 metres was opened next to the main excavation area from 1900-1912. Here, the preservation conditions proved to be far better.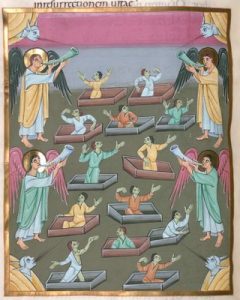 All-in-all, 69 features were recorded during the excavations. The encountered artefact-spectrum was vast and the finds reach as many as 12,000 entities. For the moment post-excavation work as e.g. digitalisation, GIS, aDNA- and material analysis are ongoing.
Research clusters
Man and Society
Research Priorities
Research Cluster Hedeby, Slesvig and beyond
Staff
Docent Dr. Sven Kalmring
In cooperation with
Museum für Archäologie
Stiftung Schleswig-Holsteinische Landesmuseen
Schloss Gottorf
Archäologisches Landesamt Schleswig-Holstein