Kammergräber im Barbaricum (Band 9)
On Influences and Transitional Phenomena from the Pre-Roman Iron Age to the Migration Period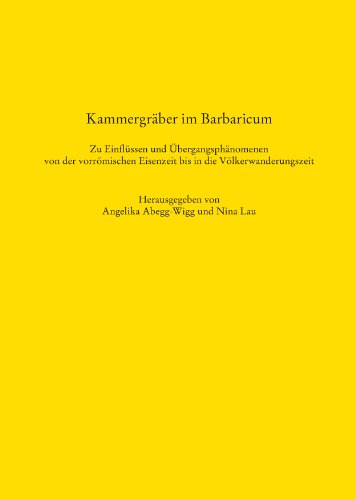 International conference
Schleswig, 25.-27. Nov. 2010
A. Abegg-Wigg/N. Lau (Hrsg.), Kammergräber im Barbaricum. Zu Einflüssen und Übergangsphänomenen von der vorrömischen Eisenzeit bis in die Völkerwanderungszeit. Schriften des Archäologischen Landesmuseums Ergänzungsreihe Band 9 (Publications of the State Archaeological Museum, Volume 9), published by Wachholtz Verlag, Neumünster/Hamburg 2014, 448 pages, ISBN 978 3 529 01879 4
Aufwendig hergerichtete Grabkammern sind ein auffälliges Phänomen im Bestattungswesen während des 1.–4. Jahrhunderts n. Chr. im mittel- und nordeuropäischen Raum. Die aktuelle archäologische Forschung zu diesen Gräbern stellt eine im April 2014 erschienene Publikation vor, wobei auch Kammergräber bis in das 6. Jahrhundert n. Chr. Berücksichtigung finden. Geografisch reicht der Rahmen von Norwegen, Schweden, Dänemark und Großbritannien über Deutschland, Polen, die Slowakei, und die Tschechische Republik bis nach Ungarn. Neben bereits im 19. Jahrhundert ausgegrabenen Kammergräbern, liefern vor allem jüngst entdeckte, gut erhaltene und umfangreich archäologisch dokumentierte Grabkonstruktionen neue Erkenntnisse.
The two editors, Dr Angelika Abegg-Wigg and Dr Nina Lau, point out that this volume provides a compact overall review of the origins and development of burials in chamber graves. Angelika Abegg-Wigg, curator at the State Archaeological Museum, and Nina Lau, research associate at the Centre for Baltic and Scandinavian Archaeology, had organised the international conference on the subject at Schloss Gottorf in 2010. The papers presented then are thus now available in print.
This publication is Volume 9 in the series entitled Schriften des Archäologischen Landesmuseums Ergänzungsreihe. It contains papers by 24 authors, in German and English, together with numerous illustrations, some in colour.